Department 56
Department 56 is a leading designer, importer and distributor of fine quality collectibles and giftware products. Department 56 has become known for its handcrafted, lighted Villages, Snowbabies™ Figurines and extensive lines of holiday and home decorative products.
Department 56 offers imaginative decorating and gift ideas with its collectible, handcrafted, lighted ceramic and porcelain houses and related accessories in The Original Snow Village® Collection, The Heritage Village Collection, and the Alpine Village® Series as well as a vast array of seasonal décor. Each of the Village lines continue to grow, as limited editions, licensed pieces, and sub-series pieces are added, along with new designs.
In 1987, five tiny bisque figurines were introduced into a magical realm of sparkling imagination, heartwarming delight and youthful innocence called "Frosty Frolic Land™". Since then, this charming collection has grown to include waterglobes, music boxes, ornaments, hinged boxes, and display pieces.
These finely detailed collectibles, each with a hand-painted face and hand-applied frosty bisque snow crystals are created by artist Kristi Jensen Pierro. Her ideas are inspired by watching children, mostly her own, and by recalling her own childhood experiences. As with all the Snowbabies™ Figurines, the title of each design is an expression that adds charm to the piece and tells the story.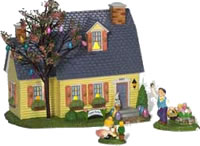 Villages
Celebrate your home with lighted buildings and accessories from Department 56.
Decorating is a creative way to set the scene for when friends or family come together for Holidays, Special Days, or Every Day.
Our wide selection of villages celebrate traditions past and present. The soft interior lights create a warm festive glow. Each building is made of porcelain or ceramic and is handcrafted and hand painted with realistic details. Our lighted building come complete with a bottom stamp, all assurances of quality and authenticity. Let our traditions inspire your own or gift as timeless gifts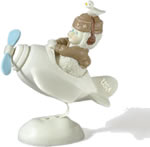 Snow Babies
These charming hand-painted porcelain babies begin in the imagination and at the hand of Snowbabies™ Collection creator Krist Jensen Pierro, who is often inspired by watching children, mostly her own.
Whether you are looking for figurines, ornaments, sentiment boxes, as a gift for yourself or someone special, you're sure to find the perfect Snowbabies™ for Holidays, Special Days, Every Day.
Here at the Village Winery we carry a large selection of Department 56 products. Please contact us for your needs.