Enesco
Created by celebrated artist Priscilla Hillman, the excitement that exists for the Cherished Teddies® collection continues to soar year after year. What makes these bears such a success? Some people enjoy collecting these teddies simply because they love bears or find their take-me-home expressions irresistible. Others are attracted to the names each figurine is given, making them the perfect gift for a person with that same name.
The Precious Moments® collection has the unique ability to offer inspiration, express love, celebrate friendship and communicate feelings. Delivering the message of loving, caring and sharing, they have become the country's most beloved collectibles and gifts for every occasion.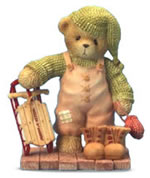 Cherished Teddies
From the irresistible expressions to the tattered paw pads, each piece in the Cherished Teddies® collection evokes a message of love and friendship.
Another exciting highlight of the Cherished Teddies® collection is the adoption feature. Each figurine comes with a Certificate of Adoption for you to "officially" welcome your new friend into your heart and home. To capture all the intricate details from their tattered paw pads to their tiny black eyes, each figurine is carefully crafted of cold cast resin and hand-painted with an oil-based lacquer paint.
The Cherished Teddies® collection includes a complete line-up of great gifts for almost every occasion, including Mother's Day. Father's Day, weddings, baby, friendship and birthdays.
Precious Moments
It was in 1978 the Eugene Freedman, President of Enesco, first saw Sam Butcher's simple drawings on a small line of greeting cards. He envisioned the drawings being transformed into three-dimensional figurines. He took the artwork to Japanese Master Sculptor Yasuhei Fujioka who transformed the illustrations into figurines, and the Precious Moments® collection was born.
In 1979 the first 21 porcelain bisque figurines were introduced and soon became a phenomenon in the collectibles industry. The Precious Moments® collection by Enesco now boasts more than 1,000 subjects for every occasion and every sentiment.
It requires five to seven days to produce a single Precious Moments® figurine. Each artisan is extensively trained from the sculptor to the painter, who takes three years to master the famous teardrop eyes-considered to be the most important and most difficult element of the figurine.
Whether for birthdays, weddings, graduations, anniversaries, holiday, new babies, or just because, the Precious Moments® collection expresses any heartfelt sentiment without saying a word.
Here at the Village Winery we carry a large selection of Enesco products. Please contact us for your needs.