M.I. Hummel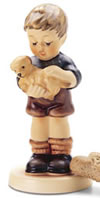 M.I. Hummel products are the result of a successful partnership between W. Goebel Porzellanfabrik and a talented German artist, Sister Maria Innocentia Hummel. Her images of youthful innocence have been transformed by the Master Artists of Goebel into original M.I. Hummel works of art.
Berta Hummel was born in Bavaria in 1909. In 1927, Berta enrolled in Munich's famed Academy of Applied Arts. There her talent matured and survived rigid training. Religion had always been important to Berta. She decided to enter the Convent of Siessen upon graduation in 1931, and three years later took the name Maria Innocentia.
Franz Goebel proposed to Sister Hummel the idea of transforming her drawings into figurines. An agreement was reached with the Convent granting Goebel the sole right to create three-dimensional works of art based on Sister Hummel's drawings. The first figurines were introduced in 1935 and were immediately successful. Tragically, Sister Hummel died in 1946 at only 37 years of age.
Even today, Goebel discuss each new M.I. Hummel work of art with an artistic board at the Convent of Siessen. Standards of craftmanship established more than six decades ago have been strictly preserved. And M.I. Hummel figurines continue to charm the world.
Here at the Village Winery we carry a large assortment of M.I. Hummel figurines, both current items and retired items. Please contact us if you have an interest in a certain piece. If we do not have it in stock, we can order it for you.